Knut Høyland
One of the Norwegian participants at BridgeBuilders, Andreas Masvie, will serve as a volunteer at Caspari Center this coming year. The following article contains some of his reflections on the conference and the work of reconciliation.
How can the deep-rooted conflict of the Middle East be resolved? Is it at all possible? Is a vision of lasting peace reachable, or merely a delusional dream?
The prospects seem rather dim for the outsider—an impression that was confirmed firmly by the young Jews and Arabs with whom I attended BridgeBuilders. And yet, despite the sense of hopelessness, these young Middle Easterners decided to leave the safety of home for the foreignness of the Norwegian wilderness, building relationships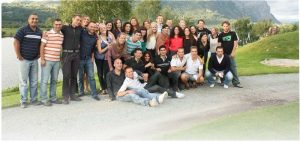 with members of the other side.
Many have reflected, and continue to reflect, upon how the conflict can and should be resolved. And a wide spectrum of opinions is indeed desirable. The Jewish author Amos Oz has produced, in addition to his beautiful fictional writings, several essays revolving around the topic of reconciliation. One of his proposals seems quite sensible: in order to attain lasting peace, Oz reasons, both parties must be willing to make painful compromises. Compromises regarding land and borders are central to the author's line of thinking.
Oz makes it sound so simple; why, then, is the conflict still alive? Fear and hatred, one can argue, prevent the parties from allowing compromise to end the conflict.
Overcoming this fear and hatred is a long-term process—one which may not be completed in our lifetime. And yet I believe we should nonetheless partake in it; it is our duty as believers. The first step is to love our enemies, one of the Palestinian participants told me. This does not imply a "yoffi-toffi, happy-clappy" embrace while difficult realities are being ignored. No, it rather implies that one has to let go of one's pride and ask for forgiveness—and be willing to forgive—in order to build a future together. It is important to keep in mind that forgiving is not the same as forgetting the past, but it does imply turning on to a new and common path.
It may sound overwhelmingly politically correct and dangerously naïve, but the ultimate goal is to change hearts on both sides. And such a change of hearts, with minds following, requires a handful of brave individuals to lead the way—and here I am convinced that believers can make a difference.
In the study of anthropology, much revolves around the central concept of identity. How do we perceive ourselves and how are we perceived by others? Our identities, some claim, are only truly expressed in encounter with "the Other." In this encounter, we must define who we are and what we believe. And BridgeBuilders was in many ways a clash of identities. The Palestinians are influenced by the Arab honor code; the Jews are direct and upfront; the Norwegians are quiet and polite.
Human beings are, however, complex, and each comprises several distinct identities. The individual is a product of the interplay of each and every one of these identities. Nationality is for many—especially people caught in conflict—a predominant identity. Yet in this conflict, for a small minority on both sides, there exists a more dominant common identity: their identity in Christ. This is what brought the participants in BridgeBuilders to Norway, despite their suspicion, prejudice, and resentment. And this identity can give them the courage to lead the way, changing hearts one by one—until the day the Lord will cleanse us of all evil and grant us his peace.