"How many men, today?" is the question I'm routinely asked by other Caspari staff members once registration for a singles' event has begun. This seems to be our greatest challenge in trying to build a vibrant singles' ministry. Every seminar we organize, every evening, every camping or hiking trip, we find ourselves asking, "Where are the men?"
We've been highly gratified to net a ratio of 40% men to 60% women at our events. This ratio remained consistent up until our most recent event. Our third annual singles' seminar took place just a few weeks ago, over the first weekend of September. This particular seminar's participant ratio was precisely one-third men, two-thirds women.
Our planning team wondered why it is so easy to attract women to such an event, but so difficult to draw men. As was the case with our two previous seminars, we invited gifted teachers to teach: pastors, elders, men of high repute from the local Messianic body. The teaching was spiritually sound, to the point, and encouraging. The atmosphere was relaxed and fun. The food was excellent. We offered accommodations at a peaceful guesthouse run by believers. The feedback we received from attendees was overwhelmingly positive.
We believed that these things would be enough to draw more peop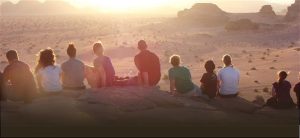 le to our events for singles, and that word of mouth would bring us more participants. While that does appear to be the case for the women, after two and a half years in this area of ministry, we still find ourselves asking, "Where are the men?"
Looking to solve this mystery, we sought out a few single Messianic men we hoped could help provide us with answers. We made a few discoveries. For some men, the word "singles" evokes a fear of being forcibly matched up with someone. Others noted that men don't want to sit around inactively listening to lectures on singleness or marriage; they'd rather do something physically challenging. Some mentioned a dread of being trapped in a situation where they might be forced to discuss things they'd rather not talk about.
We listened to what the men had to say. We've recently started brainstorming to create new ways of promoting upcoming singles' events that will appeal to single Messianic men. We're considering how we might modify the format of some of our events so they're both spiritually and physically challenging. We're also currently trying to recruit some single Messianic men to our planning team to provide us with ideas for activities that will attract other single men.
We are passionately committed to building a dynamic singles' ministry. This requires us to listen to the Messianic singles we desire to serve, and to adapt, while maintaining a commitment to prayerfully seek new ways of meeting the needs of this community. We would really appreciate your prayers to this end.