Hanna Lindberg
Throughout 30 years of Caspari Center history, we've enjoyed having numerous volunteers serve with us for varying lengths of time. Volunteering at Caspari Center has provided many people from all over the world with a great way to become acquainted with Israel and get a taste of the Middle East.
This fall, the Caspari Center has been blessed again with four volunteers in their twenties from Scandinavia. This includes three young men who have always wanted to experience the Middle East. Through Caspari's partner organizations, they've had the opportunity to come to Israel. Chris, from Denmark, shares his expectations for his time in Israel: "I came to Israel to broaden my horizons and experience a new culture while doing something meaningful. I expect to leave with a new understanding of Israel, God's chosen people, and the conflict. I hope to develop as a human being by living among people with a dramatically different world view."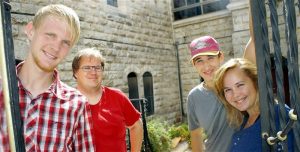 Mark, also from Denmark, summarizes his thoughts the same way, adding: "I think that volunteering at Caspari will give me some insights into the Messianic movement that would have been impossible to get just by reading or observing from the outside."
For Maria, who hails from Norway, volunteering at Caspari Center is much more personal. This has been a homecoming for Maria, as she spent 10 years of her childhood in Jerusalem when her father, Torkild Masvie, served as Caspari Center's director. "Volunteering at Caspari is the perfect opportunity to come back and experience my childhood country. I knew that I might find it a bit difficult to come back, but my reaction was rather unexpected. The first week was extremely challenging. I thought it had been a terrible mistake to choose to live in Jerusalem a whole year!" Maria added, "On another level, I now see the difference between being a child in the country and being a woman. Certain unwritten rules that I was unaware of as a child now suddenly apply to me. I now have to enter Israel through another door and find out what role Israel still plays in my life."
All four volunteers have already experienced first-hand the cultural differences and the Israeli mentality. In order to get along and even to "survive," they needed to adjust to the Israeli way of dealing with things. "There have been times when I've felt like knocking some sense into an Israeli head or two. There can be such a lack of consideration for others! On the flip side, however, I've been amazed by the heartfelt hospitality I have experienced. Fortunately, the latter greatly outweighs the former," says Andreas, Maria's cousin.
Answering the question regarding the biggest difference between their home countries and Israel, Mark speaks for all: "Of course, the language! But apart from that, I'd say the directness and impoliteness that shows its face seemingly everywhere, in traffic, in public transportation, in queues, etc. That 'impoliteness' is only skin-deep, though, which anyone who takes the time to get to know an Israeli will find out."
"It's been a wild, and at many times, exhausting experience trying to process all the impressions you get from moving to a multicultural country of this caliber. But there have also been a lot of pleasant experiences. I've found the Israelis very open and willing to talk to you although you look like a tourist. And then, of course, here you have the Middle Eastern cuisine which is absolutely great!" says Chris, a cook in the making.
Israel is the land of the Bible, and experiencing the culture also influences and adds to our understanding of the Word of God. "Walking the Via Dolorosa you understand a bit more of what it must have been for Jesus. Trying to make your way through the masses, avoiding the salesmen, climbing the endless stairs destroyed my picture of Jesus walking a broad straight street," says Chris. Mark adds, "I can just go up to where God's temple stood, to the places where Jesus taught, where he died and rose again, and where many, many other incredible events took place. It is awe-inspiring even though it also somehow quickly becomes 'normal.'"
To anyone considering volunteering in Israel, Maria, Andreas, Mark, and Chris want to say without hesitation: "Everyone has an opinion of the conflict, the people, religions and the Land. By coming here and living here you get to make up your own mind on Israel with everything that is attached to it, with its beauty and dirt. It will be the experience of your lifetime; you will not leave the same as you entered. Just do it!"