Jakob Nielsen
What do a Hungarian professor of literature, a Norwegian Pentecostal pastor, a Lutheran teacher of history from California, a South African tour guide living in Israel, and an Israeli Orthodox Jew originally from Florida have in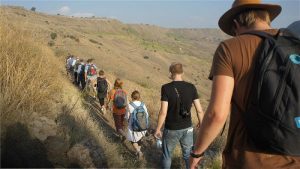 common?
Maybe not much at first glance. But the uniting factor was a passion for – or at least an interest in – issues relating to Christian mission and the Jewish roots of Christianity, a passion that made them sign up for Caspari's first missiology course in at least 10 years: "Jesus the Jew – a Light to the Nations."
In the course of 10 days, we had 12 sessions, 7 excursions, and a 2-day trip to Galilee.
The uniting theme of the sessions and excursions was contextual theology, which has become a missiological imperative within theologies of mission in recent years.
But at the same time, we need to know the original cultural context of Jesus and his disciples in order to understand the message that we are to express in the different cultural contexts of today's pluralistic  world.
The highlights of the tour included a very inspiring introduction to the 19th-century Protestant mission movements to Israel by Aaron Eime from Christ Church in Jerusalem; a lecture on the need for reconciliation as a contextual expression of faith in areas of political conflict by Salim Munayer from Musalaha; and a brilliant and informative lecture on the transition from Hebrew followers of Jesus to the Greek/Hellenistic religion of the Roman Empire by Vered Hillel from Israel College of the Bible.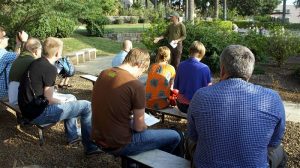 The inspiration for the title of the course (Jesus the Jew – a Light to the Nations) was taken from Genesis 12, the great commission of the Hebrew Bible, where Abraham's offspring is called to be the object through whom Godwill bless all the nations of the earth.
The feedback from participants has encouraged us that through the grace of God, we have been participants in his mission to the world, blessing this wonderful group of South Africans, Israelis, Hungarians, Norwegians, Finns, Americans, and Danes.
As some of the participants wrote on their evaluation sheets: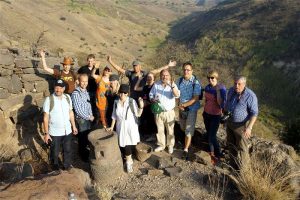 "[The course] was excellent and I am most grateful for it!"
"Wow, what an amazing experience!! I really had a great time and learned a lot."
"I was so blessed."
"The stay in Israel has made me want to come back."
And so we want to forward the thanksgiving to God, whom it is all about, in great expectation of what he will do through our participants in their contexts when they return home.
For more information about Caspari Center's international study programs, click here.