Last year, over 1,000 guests visited Caspari Center. Many of them used our library or participated in various courses, others came with tourist groups, and some just dropped in alone or with friends. For the past two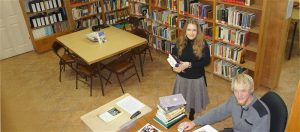 years, we've enjoyed our new premises on HaNeviim Street in Jerusalem; we have good office spaces, a decent-sized library, a beautiful chapel, and classrooms for lectures and events. As a result, we have been able to welcome even more friends than before, from all over the world. For those of us who are international workers here, the visitors sometimes bring a fresh breeze from our home countries – occasionally even with the aroma of Finnish coffee and chocolate! But more importantly, they come with open minds and hearts to learn and engage not only in what God did in this land in the time of the Bible, but also in what he is doing here today.
The vision of Caspari Center is two-fold. Our principal purpose is to help build up the Messianic congregations in Israel through education, providing tools and materials according to their needs. Second, we have a role in the universal body of Messiah. We try to fulfill this part of our mission by publishing materials and providing teaching for Christians from around the world. In our newer, more easily accessible facilities, more and more Christians are coming to us. We teach them about the Messianic movement and the lives of Messianic Jews in Israel. We want to awaken their awareness of the Jewish roots of their faith, so that their pilgrimage in the Land will be more meaningful than just wandering around taking pictures of the most famous tourist attractions. Israel is more than Bible stories from long ago, old stones and historical sites. This country is very much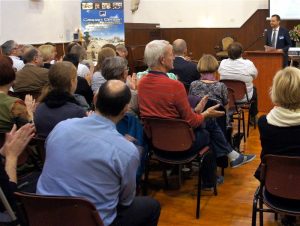 alive today. God intended us believers, both Jews and Gentiles, to be united in Jesus. Together in our Messiah we all compose a new spiritual entity: one new man (Eph. 2): "For he himself is our peace, who has made the two groups one and has destroyed the barrier, the dividing wall of hostility." In this broken world, we still see many separating walls. But unity is the spiritual reality we should seek, and we pray that it will become more and more tangible.
Many different people come through our doors. A small number find the presentation of our work to be a warm, relaxing opportunity to nap a little in the midst of a tight touring schedule. Fortunately, most people are more engaged; some eyes and hearts even seem to come alive with real fire. We have often heard comments such as, "I knew that Messianic Jews existed, but it didn't mean very much to me. Now I know more about them and I'm really inspired!"
Some of our visitors are pastors and spiritual leaders in their own countries. Through them we have a real chance of making an impact on the church around the world. Obviously, we can only accomplish this by the grace of God, empowered by the faithful prayers of Caspari supporters. And so, one of our main objectives in receiving guests at our center is to encourage them to become intercessors who faithfully pray for our work, this land, and the followers of Jesus who live here.