Caspari Center's latest publication: Chosen to Follow – Jewish Believers through History and Today is now also available as a Kindle book on www.amazon.com.
Chosen To Follow is a collection of articles relating to the history and theology of Jewish believers in Jesus (Yeshua). What role did they play in the early church and how did they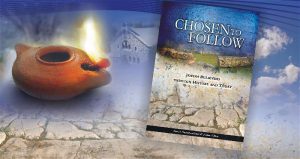 relate to other Jewish groups in antiquity? What does the Messianic movement look like today in terms of identity and theology? How does this movement interact and engage with the church and with the wider Jewish community? What is its role in Israeli society and in reaching the Jewish people and all nations with the good news about Jesus?
This volume's 15 contributors – Morten Hørning Jensen, Reidar Hvalvik, Oskar Skarsaune, Anders Runesson, Hélène Dallaire, Kai Kjær-Hansen, Rolf Gunnar Heitmann, Daniel Juster, S.H.R. Ben-Haim, Michael Decker, Richard Robinson, Stuart Dauermann, David Zadok, Lisa Loden, and Richard Harvey – present various perspectives that are part of the ongoing development of the movement of Jewish believers in Jesus, its theology, and its identity.
The book is published on the occasion of the 30th anniversary of the Caspari Center for Biblical and Jewish Studies and edited by Knut Høyland and Jakob Nielsen.
The book is also available in print copies in our online store. We appologize for the technical difficulties we have been experiencing with our online store lately. The store should now be functioning as normal. To view that various books we have available, click here.