For children's ministers, summer is a hot season in every sense of the word. The Sea of Galilee is like a hot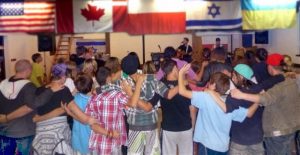 bath that neither refreshes nor energizes. The heat of the mid-July Mediterranean Sea welcomes not only humans but also jellyfish that mercilessly bite anyone who dares to disturb their calm and peace. The Red Sea, with its year-round constant temperature, would be a true refuge if not for the scorching temperature of the air in Eilat.
A children's summer camp is an absolute necessity, but how can it be organized in this climate? I have been taking part in planning and running Messianic children's camps for six years now, and we had the summer camp at home – in Israel – only once during this time. Knowing and seeing all the challenges and difficulties of summer ministry, the Almighty has not left us without his care. Everywhere he has faithful people who are willing to serve. Over the last few years our Messianic camp has been in Poland. In the beginning there were many doubts: Who is going to help? How can we organize kosher food? In what language should we run the program? All these problems were solved, with God's help, the very first year we went to Poland.
As I reflect on this opportunity, I can see the great blessings and benefits that these trips bring. Almost all our children are growing up in relatively small Messianic congregations, which is quite normal for the small country of Israel. And because, in our own country, faith in Yeshua is considered to be marginal, discovering that lots of young people all over the world share the same faith is a nice surprise! In the international youth team that helps us run the camp, there are young people from Ireland, America, Polan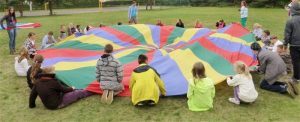 d, and Ukraine. Our teenagers have a great opportunity to get to know other cultures and languages, and to brush up their own conversational English. On top of this, they have much time for fellowship and making new believing friends – a very important thing for young Israelis.
I am reminded of a special evening program prepared by our Polish friend, who is always actively involved in building the camp program. He told us, "Your children should know for sure that their God, the God of Abraham, Isaac and Jacob, fulfills his promises. They should see it!" And then he showed the teenagers a colorful PowerPoint presentation about the fulfilled biblical prophecies. Being neither a theologian nor a Bible teacher, he managed to win the hearts of many young people and to break that special kind of "ice" that is so typical in the teenage years. Another time he showed us an unusual map of Israel which he bought in a Jerusalem store. On a satellite photo, one can clearly see how the mountain peaks in the area of Beit El form the four letters of the Lord's name (the tetragrammaton). We Israelis had to go all the way to Poland in order to see and learn this!
I am grateful to the Lord for this work of the Holy Spirit and the unity of believers from all the nations. When hundreds or maybe even thousands of people around the world pray to God for the younger generation of Israeli Messianic believers, of course he will answer the requests of his children and help overcome any difficulty in this challenging ministry. And the fruit that we see later encourages us to move forward.
"Let us not become weary in doing good, for at the proper time we will reap a harvest if we do not give up." (Gal. 6:9)
Rita Kontorovich