In June Hege and I and our two boys, Jonatan and Joel, packed our things, left Jerusalem behind, and moved back "home" to Norway. After six and a half years in Israel, during which time both our boys were born, it was sad to have to say goodbye (lehitra'ot) to friends, colleagues, and a lan
d and a city we dearly love.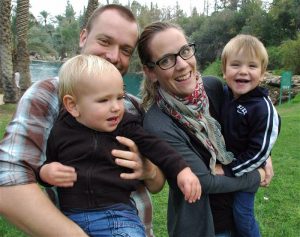 Back "home" in Norway our family has been looking forward to our arrival, and we are very glad to be closer to them. At the same time, when someone asks me, "Isn't it good to be home?" I find myself asking where "home" is.
We now live in Grimstad, a small town in the southern part of Norway, where I have been called to serve as a pastor in the Lutheran Free Church. We have been very warmly welcomed in the church and in our new town, and we are slowly but surely finding our place here. At the same time, we still feel that "home" is in Jerusalem.
It has been an amazing experience to spend these past years in the Holy City. We arrived in Jerusalem in 2007, and I immediately started serving at Caspari Center. At first, I was supposed to work on developing international study programs, but very soon I was asked to take on the role of director. It has truly been a privilege to serve at Caspari Center. During my years as director, we saw a lot of change: new staff, a move to the new ministry center on HaNevi'im Street, and the development of new teaching programs and literature. You can read about all of this elsewhere on the Caspari website or in previous newsletters.
Looking back, what I will perhaps remember most is the fellowship of our staff as we shared from the Word of God every day at our morning devotions, or as we ate cake to mark the arrival or departure of a volunteer or staff member. I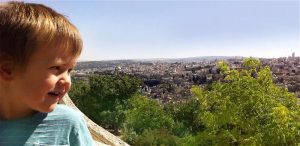 will remember the buzz of excitement as over 100 Shabbat school teachers gathered for a seminar at Beit Asaf. I will remember riding camels in the
Jordanian desert with Messianic and Christian Palestinian youth, who gathered in order to live out our reconciliation in Christ. I will remember leading pastors and theology students through the narrow streets of the Old City, following in the footsteps of Jesus. I will remember the mix of Hebrew, Amharic, Russian, and English as young leaders came to our courses eager to be equipped for service in the Body of Messiah. And so much more . . .
It has been a great pleasure to serve at Caspari Center and to be part of what God is doing among his people in Israel. I am especially grateful to all my co-workers at Caspari who have shared this calling over the past years. I trust that God will continue to equip and lead the work now that I am no longer part of it, and that we will see continued growth and strengthening in the body of Messiah in the land.
There is no doubt that Caspari Center and Jerusalem will be home for me and my family for a long time. And at the same time, we trust that God calls us to serve wherever he needs us. After all, it is in him that we always have our true home.
Knut Høyland, Former International Director of Caspari Center