January 17th was the last day of an almost five-year adventure for me and my family. We boarded our plane and left Israel, our home for the past five years. Moving always brings mixed feelings: all the excitement and anxiety about the unknown future mixed with the good memories but also sorrows about the things being left behind.
At moments like these we naturally think back to those good memories. For me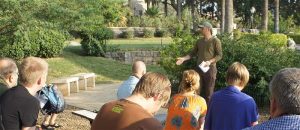 there are many good moments at Caspari to look back at. I have really enjoyed the fellowship with my colleagues and the friendly and always good atmosphere. I will miss sharing our lives and praying for each other at our daily morning devotions.
Moving is also a time of reflection. What did we achieve here? In this regard I am proud to be able to look back at five years during which Caspari has grown in multiple areas. The move to our new premises on Nevi'im St. was an especially big achievement, but the maturing of several good projects has also been a pleasure to witness.
In my area of responsibility, I am proud to look back at several large study programs arranged by Caspari Center. Our partnerships with two large Scandinavian theological institutions and the collaboration on both four-week and shorter theological courses have been a real pleasure to me. We have had the opportunity to share our vision and our heart for the Messianic body in the land with close to 50 young and upcoming church leaders from Scandinavia, all of whom stayed with us for several days learning about the Jewish roots of their faith and about our Messianic brothers and sisters and their challenges here.
We also developed a 10-day missiological course—Jesus the Jew: A Light to the Nations—in which we combined teaching about sharing the good news in the various cultural contexts of the world with understanding the first context
the good news was preached in. This double-sided focus worked out very well!

Another major landmark is, of course, our 30th anniversary, celebrated in the fall of 2012. It was a pleasure to work with leading Messianic leaders on our anniversary book, Chosen to Follow. I feel that in this book we gave voice to leaders addressing important topics for the future of the Messianic movement.
Chosen to Follow in a way frames my experience of walking alongside my brothers and sisters of Jewish descent. They are the chosen people of God, still learning what that means in practice, but at the same time they are called not only to enjoy a special relationship with God, but also to participate in his reaching out to all peoples and nations of the earth. We are called to follow our Messiah into all the different contexts and cultures of the modern world today, including the modern Jewish, Israeli one. It is my hope that the Caspari Center will continue to be a relevant and encouraging player in equipping his people for these works of service.
Jakob Nielsen