I had the privilege of taking part in the fourth BridgeBuilders reconciliation conference this last Passover. The conference took place in the Wadi-Rum desert in Jordan. Twenty-seven young adults from Israel, the Palestinian territories, and Norway participated in the conference. This was part two of the conference; the first part was held in Norway, in August 2014. From the nature of Norway to the silence of the desert in Jordan; these young adults were meeting again, but in very different surroundings.

Believers living in the Holy Land face the realities of the conflict every day. Jewish believers, Arab believers, expatriate believers—we all need to relate to the various political and theological views regarding the Land and God's will for people living here. And with no political solution in sight, it is difficult for believers from the different sides to find a common theological understanding of the conflict.
As believers in Messiah Jesus, we are one body—despite everything. The last prayer of Jesus was "that they may all be one" (John 17:21). The oneness of believers is the sign "that the world may believe"; this is a big responsibility for all of us who call ourselves believers.
During the conference in the Jordan desert, we were all very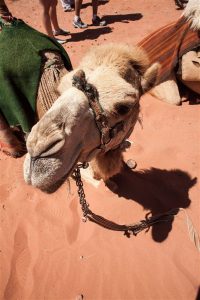 much outside our usual comfort zones. Under the bright stars and the moon by night, and the burning sun by day, the total silence of the desert was a unique experience. Spending time alone in the early mornings and late
evenings as the other participants slept filled me with tranquility. I felt the silence of the desert speaking to me, bringing to mind Simon & Garfunkel's song "The Sound of Silence."
As a Bible translator, I recall struggling in particular with 1 Kings 19:12. As Elijah was fearfully running away into the wilderness, he received a revelation of God. God was not in the storm and he was not in the earthquake; nor was he in the fire. God revealed himself to Elijah in this way: "Kol demama dakah"—a sound or voice of silence which was very, very thin or fragile, a still small voice. What is the exact meaning of those three Hebrew words? I am still not sure. But out in the desert, I began to understand the meaning of the "sound of silence."
Elisabeth E. Levy