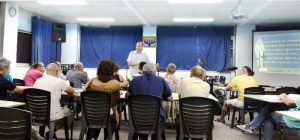 Alexander Goldberg, Israel Director at the Caspari Center, is the new Dean of Beit HaYeshua's Bible school.
Last year, Beit HaYeshua congregation in Jerusalem established a Bible school for ex-drug addicts, where Goldberg taught. This year, he will play a much more significant role at the school.
– I'm responsible for the curriculum and I also teach. I give the students homework, which I check. At the conclusion of every topic, the students are tested on the material, says Goldberg.
The Bible school also employs other teachers, both locals and from abroad.
Many drug addicts
According to Beit HaYeshua's web page, it's estimated that there are over 20,000 hardcore drug addicts and many more alcoholics in Israel today. Beit HaYeshua, which runs the Bible school and also a rehab center, helps as many of them as possible.
– We have approximately 25 students enrolled this year, says Goldberg.
The students gather once a week for evening lectures.
– We cover the different aspects of who God is and who man is. Our students are not yet ready to contemplate heavy theological issues, so we teach them the basics: about God, the Maker of heaven and earth, about sin and how to overcome temptation. They also learn how to pray and read the Bible. The teaching is very practical, says Goldberg.
Transformation
– Are all believers before they start?
– Yes, at least to a certain degree. Not all of them have been baptized, however. Last year, some were baptized during the school year. Some students have only recently left their lives on the streets.
– Why is this school important?
– Unless they are firmly grounded in the word of God,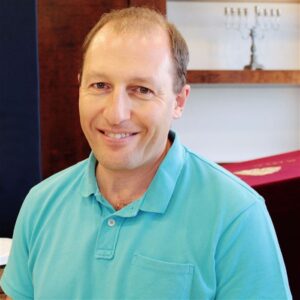 these new believers will not be able to change their thinking and to stand strong spiritually. They would be destined to fall back into their old lifestyles. Only by studying the Scriptures and by being in communion with other believers can God change their lives in a substantial way. I don't mean just staying clean; I'm referring to a total transformation of character, says Goldberg.
Positive response
Last year the students' responses were very positive.
– They realize that the Bible is a book for life. It's not just a book for theologians, it's a book for life. Although it's also a book for theologians, because theologians need life, too, says Goldberg laughing.
– The Bible speaks to them about real-life situations and how to bring God into their daily reality. You can commune with God while you're cooking, or while you're chatting with your friends about football. It can be pure, holy and healthy at the same time, Goldberg continues.
­­­­- Does it work?
– It does. That's the good thing about it. It's really a miracle to see these people transform and to see what God is doing in their lives.
This year, the leadership of the rehab center is considering adding another dimension to the Bible school program: some courses on ministry in general, and evangelism in particular. For interested students, there will be training opportunities available for those who want to reach out to other addicts and non-believers in Yeshua.
Ingjerd Våge