"And I saw the dead, great and small, standing before the throne, and books were opened. Also another book was opened, which is the book of life. And the dead were judged by what was written in the books, by what they had done." (Rev. 20:12)
God has a library. Unlike the Caspari library, it is not a place where people come to study. It seems to be more of an archive or official record. What kinds of books does God keep on his bookshelf, and what is written in those books?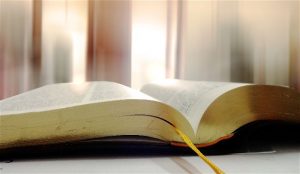 The passage in Revelation 20 tells us that some of the books contain a record of the things we have done. I am reminded of the story of Mordechai in the book of Esther. Mordechai had done a good deed for the king; in fact he had saved the king's life. The king had forgotten about it, but it was all recorded in the official records of the kingdom, and Mordechai was rewarded (Esther 6:1–3). God does not forget our deeds, of course (except our sins when they have been forgiven), and they are all recorded in heaven.
Even the words we say are all preserved in heaven: "I tell you, on the day of judgment men will render account for every careless word they utter; for by your words you will be justified, and by your words you will be condemned" (Matt. 12:36–37). Well, perhaps it is not quite such a comfort to know that everything I have ever said is just waiting in heaven for God to confront me!
It is amazing to consider—indeed, impossible to understand—that God has known all these things long before we did or said them. But that is exactly what Scripture says: "You saw me before I was born. The days allotted to me had all been recorded in your book, before any of them ever began" (Ps. 139:16).
What exactly does this include? A beautifully encouraging verse, Psalm 56:8, tells us that God even records every pain we feel, every tear we shed: "You number my wanderings; put my tears into your bottle; are they not in your book?"
God is made especially happy when his people meet together in fellowship. In fact, he seems to have a special book dedicated just to those precious moments: "Then the people who feared the Lord spoke to one another, and the Lord listened and heard what they said. In his presence there was written down in a book a record of those who feared the Lord and respected him" (Mal. 3:16)
We have seen that God writes down both what we say and what we do. Some of God's books seem to be written in pencil, where things that are written can also be erased. This seems to be the meaning of Psalm 130:3–4: "If you kept [a record of] our sins, who could escape being condemned? But you forgive us, so that we should stand in awe of you," and it is confirmed by passages like Isaiah 43:25 and Micah 7:18–19.
The first verse we looked at, Revelation 20:12, speaks of the book of life. This same book is referred to by different names. Jesus just says "rejoice that your names are written in heaven" (Luke 10:20). Revelation 13:8 and 17:8 tell us that this book was written from the foundation of the world, and that there are some whose names are not written in the book. According to various scriptures, it is possible for a name to be erased from this book. So Moses says, "'But now, if You will, forgive their sin—and if not, please blot me out from Your book which You have written!'The LORD said to Moses, 'Whoever has sinned against Me, I will blot him out of My book'" (Exod. 32:32–33). And David prays that his enemies "may be blotted out of the book of life, and may they not be recorded with the righteous" (Ps. 69:28). And in Revelation 3:5, Jesus says to the church in Sardis, "He who overcomes shall be clothed in white garments, and I will not erase his name from the book of life."
It should be a sobering thought that something will be erased from God's book: either my sins or my name.
God knows us intimately; every word, every thought, every act is recorded in heaven. While this may serve as a warning to us, it should also be a comfort. God knows, remembers, and cares about every thing we go through. The "book of life" is "the Lamb's" (Rev. 21:27); "those who belong to the Lamb of God are written in that book and will enjoy eternity in the presence of God."
This article was first published in 2004 in a newsletter.
Ray Pritz