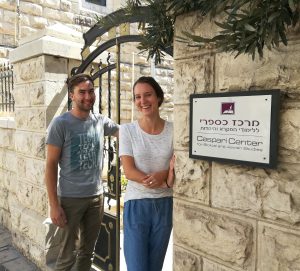 Meet our volunteers!
Abbey
I am 22 years old, from the state of Wisconsin in the US, and I will be volunteering here at the Caspari Center until January. Part of my daily routine involves sitting at the reception desk, answering the phone, doing website work and completing other administrative tasks. I have also been participating in the Bible School course, both in helping with logistics, and also joining the lectures and excursions.
I first heard about the Caspari Center from my grandpa who has been a long-time Caspari Center supporter. I have a passion for reaching the unreached with the gospel of Jesus Christ and for expanding the kingdom by expanding the church. I feel a call to long-term missions and so volunteering here is a step in that direction. I feel privileged to have the opportunity to serve here for six months. I decided to step out in faith, trusting that God will direct my path while I'm here, and use it to shape my future. So far, I have been amazed at how much I am learning. Being in a place with so much biblical history is surreal. The truths of Romans 11 and Ephesians 1, that we are branches that have been grafted into the cultivated olive tree and adopted into God's family, have been made so much more real to me as I live among the chosen people of Israel. I am overwhelmed by the grace of God and am excited for all I will learn and see in the rest of my time here.
Tomi
What is one to think about Israel and the Jews? It's an interesting issue to ponder. Everyone seems to have an opinion about this small nation which takes up such a big place in the news. It also awakened some emotions in one young man in Finland, who can now be found walking through the busy streets of Jerusalem.
I am a 27-year-old son of a carpenter from Finland. For many years, Israel and the Jewish nation have been of great interest to me. My desire to come here emerged strongly last winter, at which time I also discovered the opportunity to volunteer at Caspari Center for 6 months. I enjoy studying history, culture and world politics, so just visiting this country for a short time would have been a pleasure. Our mission in this life is not just to study and learn things, but also to serve and love. Now my place is to serve and love in the land of Israel.
At the same time, I have the opportunity to explore this city which, despite its harsh climate, both physical and spiritual, is a center of political and religious interest. Another interesting field of study is the Messianic Movement. The Caspari Center is the perfect vantage point from which to observe ongoing events, as well as the Jesus-following community. I feel like all of this could take a lifetime to comprehend.
In the meantime, I'm enjoying filing Media Reviews and mopping the floors. Happy Jewish new year and good autumn to you!