Sanna Erelä, Project Coordinator
I'm sitting in Christ Church's beautiful historical garden with Michael Kerem. Here, one can enjoy a cup of coffee in peace and quiet, oblivious to the Old City of Jerusalem hustle and bustle just outside.
Michael Kerem is a Messianic Jew living in Jerusalem, and a long-term missionary to Muslims in the Middle East. Together with his wife, he is part of the "Isaiah 19 Highway" vision, which aims to join with people from hostile nations and work together for the kingdom of God. Kerem founded an organization that is administered through The Church's Ministry Among Jewish People (CMJ).
"The highway from Egypt to Assyria through Israel, described in Isaiah 19, is actually the same route that our patriarch Abraham travelled. For us, Isaiah 19:23-25 isn't just a beautiful biblical prophecy, as much as it is a framework for doing ministry. We have a vision about the 'Way of Abraham', and we want to equip Jewish believers to walk out their calling, to go to their brothers, descendants of Ishmael, around the Middle East." Kerem speaks so enthusiastically that his eyes shine, even from behind his sunglasses.
Most recently, he organized a six-month course during which Israeli believers were prepared for this mission outside their home country. He would also like to have Christian Arabs and Muslim background believers join. I wonder out loud, "How is it even possible for Israeli citizens to travel to hostile neighboring countries?" Kerem lists countries like Egypt, Jordan, Turkey and Kurdish Iraq, all accessible with an Israeli passport. Many Messianic Jews also have dual-citizenship, which opens even more doors.
I listen, thoroughly engrossed, as Kerem shares his riveting thoughts about mission among Jews and the relationship of it to world missions.
"Israel and the Jewish people are a sort of doorway to all the nations. When you reach the Jews, you'll reach others also," he claims.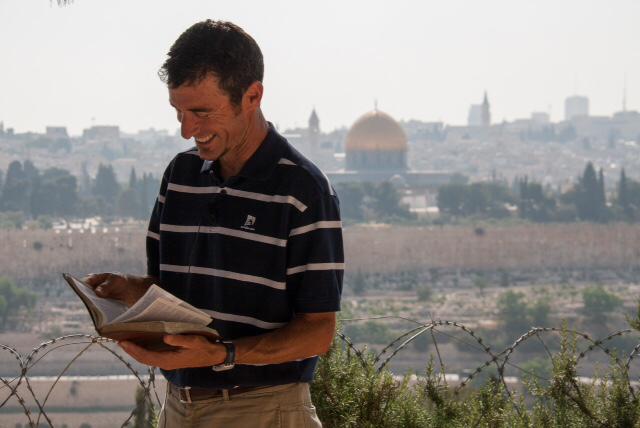 "I don't know if I can explain it logically, because it seems almost counterintuitive, but oftentimes when people come to Israel to bless the Jewish people, they receive a vision for other nations. Part of the reason, I think, is because of Israel's calling to be a light to the nations. The other thing is that when Gentiles join in God's heart for Israel, He then gives them a similar calling to be a light to the nations. I've seen this happen in discipleship programs, for example. People would come here with a very intent vision to bless the Jewish people, but end up receiving a call to other nations, sometimes even to Arab and Muslim nations."
"Israel is almost like a launchpad to the rest of the world," Kerem declares. "What happens here has an impact all over the world. What happens all over the world has an impact on what is going on here, as well. You could say that Israel is like a microcosm, 'a blessing in the midst of the land'," he summarizes, referencing Isaiah 19:24.
For many mission societies, Israel and the Jewish people are just like any other nation in the world. Oftentimes, Israel isn't considered as having any special place in God's plans anymore. Kerem recalls a particular gathering of leaders of the worldwide organization Youth with a Mission (YWAM) in Sinai for a retreat, in the 1990's. As they sought the Lord, they realized that a number of the leaders were having problems with their eyesight. So they inquired of the Lord, "What are you saying to us?" He answered them: "You have been blind in one of your eyes to one of the main peoples in the Middle East. You have focused on the Muslim world but you have been blind to My people, the Jewish people."
"A missiology that doesn't recognize the position of Israel loses a key element of God's promise-plan throughout the bible and throughout history," Kerem states. "If your missiology doesn't include Israel, it may prove defective. Ultimately, it may take you off course from God's purpose to redeem and bless the nations, from the covenant He originally made with Abraham. In sharing the Gospel, the straightest line isn't always the best. Sometimes you need to go through Israel!"
Kerem continues by pointing to another issue, often forgotten in missions. "If we focus on reaching just one people group without considering its relationship to other groups, we'll miss one of the main messages in the kingdom of God. In the Isaiah 19 prophecy, the nations together are a blessing and a witness. At their best, members of different unreached peoples can work together for evangelism. Without Israel and a holistic vision about missions, the unreached people groups easily end up reflecting geopolitical structures and principalities, rather than defeating them. In the Middle East, different churches have been founded: a Turkish church, a Kurdish church, a Muslim background church, etc… The outcome is that others are excluded, and walls are built up in this already divided region. For centuries, the story of the Middle East has been a status quo: 'Let everybody stay in the box they were born into!' We should not build churches around these boxes. According to Ephesians 3:10, 'His intent was that now, through the church, the manifold wisdom of God should be made known to the rulers and authorities in the heavenly realms.' Is a fractured church any kind of threat to the powers and principalities?"
What, then, is the meaning of the Jewish roots in the mission to other nations? Michael Kerem answers: "Obviously, the Jewish roots of the Gospel were really rediscovered only after the birth of the State of Israel, when many Jews moved back to live here. In the original land of the bible, the Scriptures and their context were resurrected in a totally different way from studying them in a chamber. The Hebrew language has been revived to a spoken language. Translating the Greek New Testament into Hebrew has opened new dimensions to the text. All this has given light to who Jesus was and what he taught. All those things have definitely had, and will continue to have, an impact on bible teaching all around the world."
During our discussion, Kerem confirms some hazy thoughts that had begun to develop in my mind as I was writing my Master's thesis in Theology, ten years ago. The thesis was about the spirituality of one African theology student, and I concluded: the faith that is connected to its Jewish roots could be more attractive to the nations than the Westernized version which has typically been brought to the world by European mission societies.
"Understanding the Hebraic roots moves the gospel from the Western context, and brings it back to the Middle East from where it originates. The gospel is not Western imperialism or European advocacy. Individualism is very typical for Western Christianity, whereas the worldview of the bible is corporate – as life here in the Middle East has always been," Kerem elaborates.
However, the central question of the missiology has not been maintaining the Jewish roots, but rather the indigenization of the gospel in different cultures. Cherishing the roots and contextualizing the message of the bible may seem contradictory, ruling one another out, but Kerem assures that it is not the case: "To a Greek mind, tension is a problem, but not to a Hebrew mind. Tension between things that seemingly disagree may be very fruitful."
While it's true Michael Kerem's experience lies primarily in ministry in the Middle East, he summarizes: "In every culture, you need to find the contextual key that invites people back to their Creator, and opens up the idea of sin and redemption. I believe that the biblical story about Abraham and his family speaks to everybody."