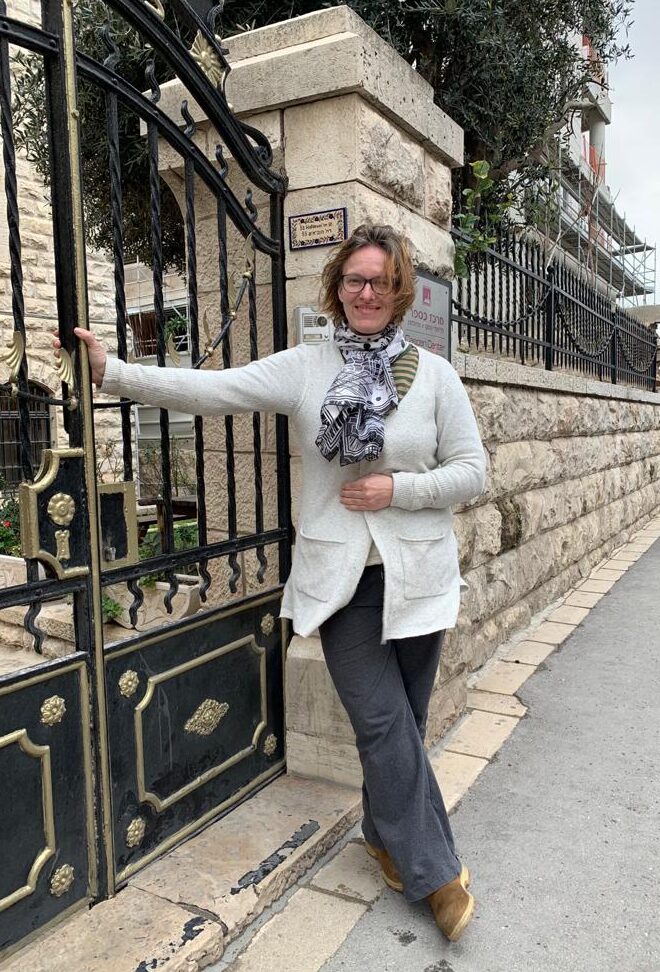 My name is Tanja Shoshani, and as of December 2020, I am the Caspari Center's newest project coordinator.
I'm originally from central Finland, but I've been living in Israel with my Israeli husband, two daughters (18 year-old Manna and 17 year-old Miriam) and son (Ari, 6) since 2010. Manna will be finishing her matriculation exams this spring, and Miriam is studying in Finland. Ari attends first grade in the school across the street from the Caspari Center. I also have an adult son who lives abroad. My husband, Ilan, passed away in March 2020 following a battle with a very aggressive form of cancer.
I ended up working at the Caspari Center in a serendipitous way. I had been studying in the library on an almost daily basis in the autumn, in between lockdowns, and it became clear that the Caspari Center would be needing someone to fill a position. I was looking for a job, and with my educational background (M.A. in Semitic languages and cultures, another M.A. in Theology, and a teaching diploma) and experience (among other things, I've worked as a writer, content writer and teacher), it seemed like a perfect fit.
Working at the Caspari Center is interesting, and I'm learning so much as I go along. The work community here is encouraging and warm. Every day, our staff gathers for a half an hour of devotional time, when we also pray for a range of different needs and issues. My tasks here are very varied: I've been planning out and writing content for upcoming Caspari courses, checking bibliographical sources for the upcoming Jewish Believers in Jesus (Part II: Jews in Spain) book, and I've taken over as the interim librarian. I've also begun an intense course for Israeli tour guides, which will enable me to tour the country with our Bible School students and study tour participants.
When I have free time, I'm happy to spend it with my family. I like to go hiking, walking, and traveling locally. I also enjoy writing and reading and doing gymnastics.
Trust in the LORD with all thine heart; and lean not unto thine own understanding. In all thy ways acknowledge him, and he shall direct thy paths.  (Proverbs 3:5-6)
This Bible verse has often been in my thoughts over the course of the past year, which demonstrated to us all our need to trust in God and also that He is worthy of our trust in Him – and that He will lead us according to His good will.